BBQs 2u latest launch is the MasterBuilt Portable BBQs with a cart that has been designed to offer a combined flavour of charcoal cooked easily on a gas grill.
As a leading retailer of the best barbecue brands in the UK, BBQs 2u has been selling MasterBuilt Series, Kamado Joe, Napoleon BBQ, and Ooni Pizza Ovens and their accessories since 2000.
This family-owned business is very passionate about barbeques due to which you can be assured to receive the best customer service and support.
For a portable barbeque, the MasterBuilt Portable Charcoal Grill gives you the freedom to set it and forget it anywhere outdoors, whether you are going to the beach or on a campsite, hosting a backyard party, or just want to enjoy a meal with friends and family.
There is no need to adjust the coal manually to achieve the right temperature. Simply adjust the SteadyTemp dial and maintain the desired temperature for straight 4 hours.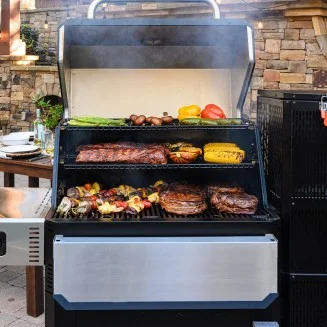 One of the most excellent features of the MasterBuilt Portable BBQs is its portability. It is created and designed to be compact and lightweight which makes it easy to carry it around wherever you travel.
The grill weighs only 16 pounds which can be carried by a person. Moreover, the two side handles make it easy to pick and move around.
MasterBuilt Portable BBQs grill can be heated to the proper cooking temperature using a fan and a separate charcoal firebox at almost the same time as a portable propane grill.
The Charcoal MiniHopper can hold 1.5 pounds of briquettes which when lit for 60 seconds turns the fan to medium and in the next 15 minutes, you would be grilling burgers.
Although the size of MasterBuilt Portable BBQs is small, it has a good cooking space of 138 square inches. This area is good enough for grilling 8 burgers, two whole chickens, or even 15 sausages at a time.
One of the main accessories of MasterBuilt Portable Charcoal Grill is a custom-fitted cover that protects the barbeque from nicks and scratches while also shielding it from rain, sun, and snow.
This durable water-resistant cover is also UV-resistant, which prevents fading and increases its lifespan.
The additional inside PVC lining prevents tearing and the double-stitched seams avoid leaks while the buckles help the cover to stay in place when placed on the grill. Buy the cover along with the MasterBuilt Portable Charcoal Grill from BBQs 2u together.
Extra features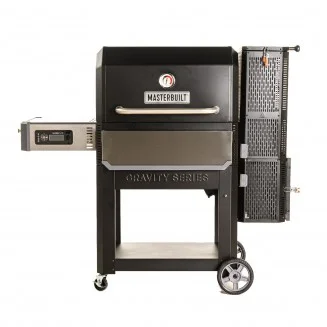 A QuickCollapse Cart that can be folded and removed when needed.
Lockable lid that allows you to move the grill after cooking without having to remove the ashes first.
Two side shelves with drink holders provide space for extra preparation.
The grill can be plugged into an electrical point or powered by four AA batteries for 6 hours.
MasterBuilt Portable BBQs feature a cast-iron cooking grate with a porcelain coating that spreads heat uniformly and also is easy to clean.
Book one today with BBQs 2u which ensures free delivery the very next day and master the art of barbecuing anywhere with MasterBuilt.